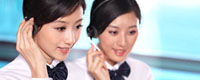 Name: Kevin
Tel: 0086-577-61513100
Fax: 0086-577-61513100
E-mail: htc@htcelectric.com
Add: No.535, Ning Kang Xi Lu, Yueqing City, Zhejiang Province 325600 China
Skype: htcelectric



HTC ELECTRIC CO., LTD is a global distributor of Quality Industrial Electrical Products. We supply low voltage electricals, instruments and meters, building electricals, explosion-proof electricals, communication appliances, power distribution boxes, electrical switches, transmission and distribution equipments, wires and cables, high-voltage electricals, controllers, new energy equipments, accessories and other Industrial electrical products.

HTC ELECTRIC understands that reliability and safety is important. All our products go through a stringent quality assurance check at our manufacturing plant and in our warehouse before they are supplied to you. We maintain a continuous research and development policy to ensure that we bring you the latest technology in all our products.

Our philosophy:
High quality products and reasonable price, Worldwide delivery and excellent service.
HTC ELECTRIC provides you with a full product range no matter whenever or wherever you need, our job is to guide you to the right choice

Our services:
Over the years we have built our products quality management system and products range from the world's manufacturers, so you can trust HTC ELECTRIC to bring you the high quality and reasonable price products.